What is active sitting and
why do we need it?
The human body is designed to be in motion. To walk, to run, to jump, to climb. To be upright. To be active. And yet, studies show that in today's modern world, people are sitting more than ever before. Up to 7-8 hours at work, and another 4-5 hours at home. This sedentary lifestyle is detrimental to one's health, and, according to the American Heart Association, there is little that can be done to counteract the damage caused by an excessive amounts of sitting.
Active sitting, however, is a way to fight against this stagnant and debilitating behavior. Encouraging you to remain in motion rather than a rigid seated posture, an active chair promotes the natural movements of your body, helping to improve spinal positioning, raising energy expenditure (up to 15-20% over stationary sitting), increasing blood flow, and strengthening your legs and core muscles. Active sitting also works your back muscles to prevent back pain, can help boost your energy levels and increase your mental performance and productivity..
What is Uptive?
Uptive is an active sitting chair base that can be fitted to standard gas lift operated office chairs, replacing their traditional five star bases. (Like the one you are probably sitting on right now). Uptive combines the comfort of an office chair with the health benefits and freedom of active sitting. And while Uptive can be used to upgrade the millions of existing office chairs already in use, entirely new chairs can also be designed to utilize Uptive's revolutionary technology.
How Uptive works?
The Uptive base features five flexible components connected to a solid upper and lower frame. This efficient design allows the chair to move, bounce and tilt in any direction. The lower part of the frame has 5 casters to support the rolling function while the upper frame connects to the gas lift of any standard office chair. Based on your weight, height and personal preferences, the flexibility and spectrum of movement can be adjusted to find optimum comfort.
True Active Freedom™
Unlike most active chairs, the Uptive doesn't balance on a large curved base like a "wobble stool" and its movement is not limited to a pivot around a single point. Thanks to its unique 5 point suspension an Uptive chair has True Active Freedom™, and can fluidly move and tilt in any direction.
True Active Freedom™
Fluid movement and tilt in any direction.
How does Uptive feel?
A chair equipped with an Uptive base softly bounces up and down, gently moving and tilting up to 15 degrees in any direction. You can balance, fidget and sway freely but, unlike a fitness ball, you still have a comfortable seat and a backrest for proper lumbar support. The unique feeling of sitting on an Uptive chair is highly engaging, with 90% of those who tested it, immediately wanting to purchase one for themselves.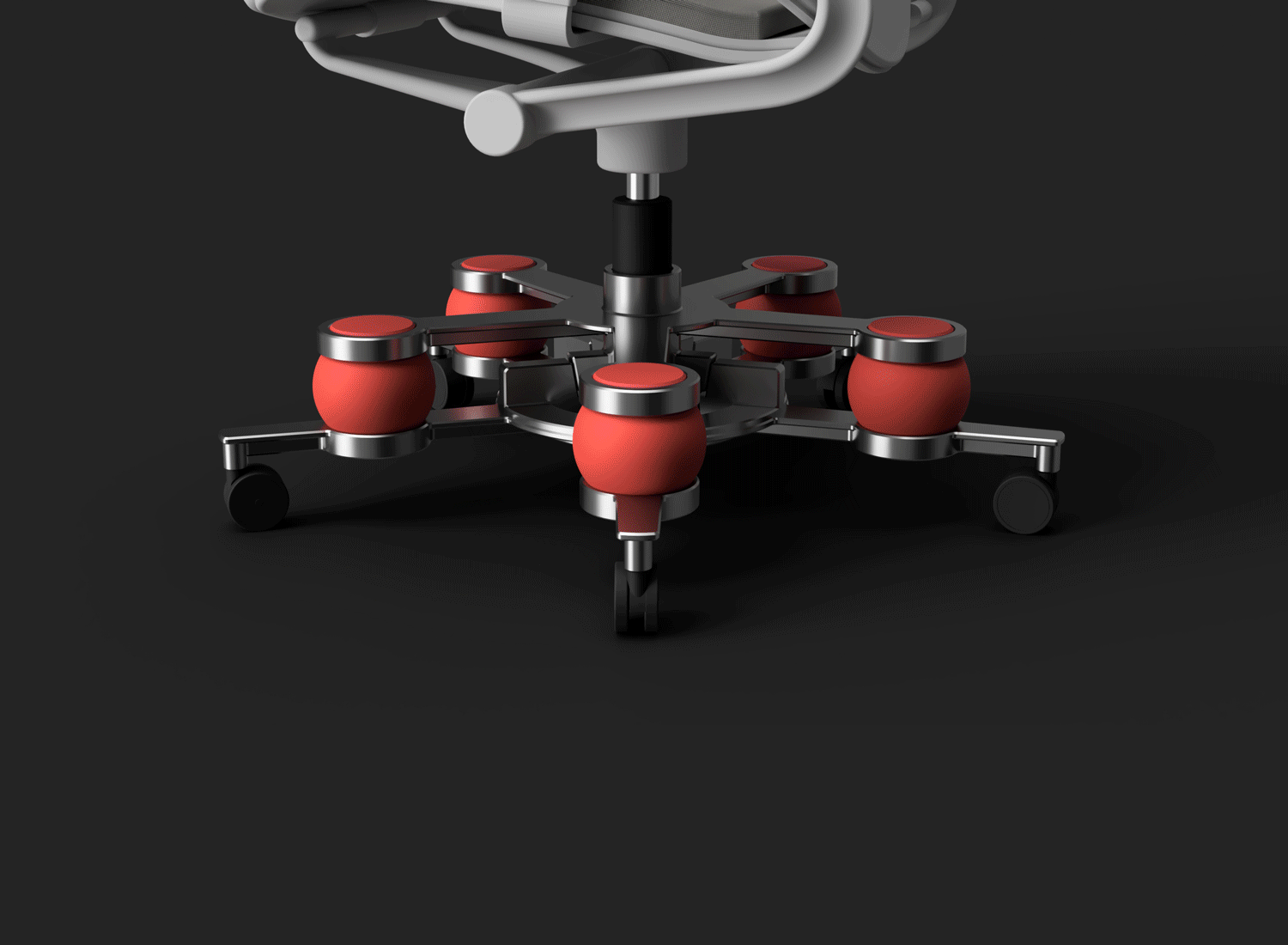 Summary of
Uptive's benefits
Converts any gas lift operated office chair to an Active Chair.
Exceptional active sitting experience by True Active Freedom™.